Everyone in the long-term use of Salt Spray Test Machine, in the process of our test, suddenly the equipment nozzle does not spray, how to cope? This is exactly what I next to teach you a few tricks method, so that we can be based on the following points to troubleshoot and deal with.

1, fog test chamber manufacturers brine does not spray: there may be a lack of spray pressure, there may be a lack of salt solution, there may be a blockage in the filter, there may also be air compression shrinkage machine does not work properly, or some other reasons. When we check the Salt Spray Test Machine, according to the phenomenon of not spraying to focus on troubleshooting.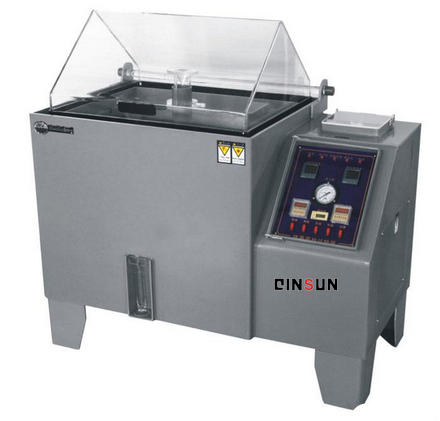 2, see if the Salt Spray Test Machine does not power supply, check the experimental tank water level, and saturated barrel water level is normal, can be solved by replenishing water. And whether the time relay to the set time, you can press the time relay to reset the zero switch key. Then look at the front and rear pressure gauge has no pressure. Solution: If the compressor is not a problem, try to adjust the regulator of the device to see if there is a response, the pressure gauge behind has 2 kg pressure, and the pressure gauge in front has 1 kg pressure that the pressure gauge is good.
3, if the back of the pressure gauge pressure, while the front of the pressure gauge no pressure, exclusion method: it is possible that the regulator in front of the bad. Maybe it is possible to control the spray solenoid valve is broken
4, we can remove the nozzle to see if the nozzle is blocked. Exclusion method: If the nozzle is blocked we can use the air compressor air hose to blow down to try or use soft ground chicken feathers to pull out.
5, whether the hose is aging, exclusion method: I do not know what model of salt spray box you use, listed before I used the salt spray box side there is a hose connected to the storage of brine, it is stuck on a roller, you can adjust the amount of spray by adjusting the speed of the roller, you can check how much the roller speed, or change a hose to try!
If the above methods have been tried or not, it is recommended to contact the Salt Spray Test Machine manufacturer to analyze and deal with it. In addition, you need to remember to maintain and repair the Salt Spray Test Machine frequently after daily use to avoid abnormalities in the use of the equipment. sa