Answer:
UV Accelerated Weathering Tester is an environmental test equipment that simulates weathering and accelerates brittleness, commonly used in scientific research on the abrasion resistance of raw materials, generally speaking, a qualified UV Accelerated Weathering Tester manufacturing out to go through seven processes, each is.

1, motor selection. To figure out whether it is a desktop all-in-one UV Accelerated Weathering Tester or column type UV Accelerated Weathering Tester, so depending on the customer's experimental provisions. If only to do an aging to test the light wear resistance of raw materials, without the role of self-spray, which desktop all-in-one machine is good, if multi-functional, such as sunlight, self-spray, heating and other roles must be, then, must be selected multi-functional UV Accelerated Weathering Tester.
2, must understand the choice of which to manipulate the instrument panel. There are pure button type, general touch display, plc, 880 instrument panel and other manipulated instrument panel, naturally, the price of the instrument panel is not the same.
3、Just start the sheet metal parts production. If the instrument panel and automatic control system are set out, the sheet metal parts can just start making. Sheet metal parts production is to pay attention to the parts of the instrument panel perforation, and its welding welding part of the quality, to ensure that no water seepage, air leakage.
4、Lacquer. After the sheet metal parts are carried out just start to spray paint. Do paint also has the effect of beautiful and generous.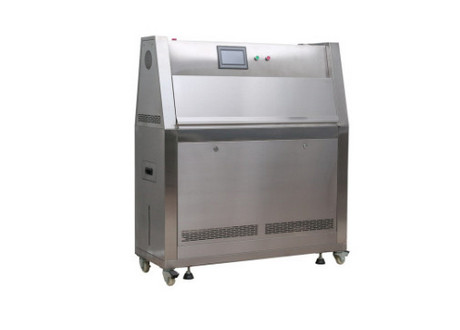 5、Electrical installation. These are said to be a reflection of the technical level of the enterprise, are each enterprise follow the same specifications, manufacturing out of the UV Accelerated Weathering Tester is not the same reason, because in terms of maintaining the actual UV Accelerated Weathering Tester a certain role, can choose a different electrical It is based on the technical characteristics of each company and cost considerations, therefore, they are different. However, no matter how different, quality and characteristics are essential to ensure.
6、Installation of water tanks, led lamps, sealing tape, etc. Sealing problem is many small manufacturers are ignored and not clear technical applications, therefore, they have the essence of not using the sealing tape, a little bit it, sealing tape essence can not resist ultraviolet light (itself also manufacturing UV Accelerated Weathering Tester it!) The result is that customers apply this kind of sealing problem goods, not much time will be used due to water vapor leakage leaching circuit board and instrument panel.
7, debugging, and packaging delivery, packaging to ensure that not to be touched or rain.
May you want to kown:

Who is a manufacturing UV resistant non-woven fabric roll manufacturer and also a supplier?