Digital Air Permeability Tester is also known as Non-woven Air Permeability Tester, Geotextile Air Permeability Tester, Air Permeability Meter, Air Permeability Tester, Non-woven Air Permeability Tester, Non-woven Air Permeability Tester, Air Permeability Tester Instrument, air permeability tester, textile air permeability tester, paper air permeability tester, leather air permeability tester, etc.

Digital Air Permeability Tester operation method:
1. First connect the power cord of the vacuum pump and start the vacuum pump.
2. Turn on the power switch and let the instrument warm up for at least 30 minutes.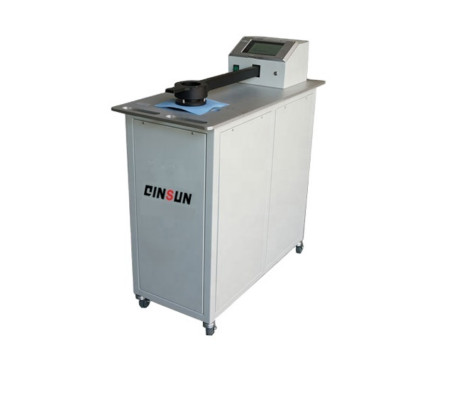 3. The non-woven material sample is clamped, and the appropriate (permeable area is 5cm2, 20cm2, 38.48cm2, 50cm2 or 100cm2, etc.) clamp is selected according to the needs, and the lower clamp is first placed on the test air chamber, and then the sample Flatten it onto the lower grip, then carefully place the upper grip on the specimen, aligning the outer edges of the upper grip and the lower grip, and finally compress it with the grip.
4. Set the test parameters (system mode, time mode, constant pressure, constant flow, number of pieces and time). After the parameter setting is completed, press the "OK" key, and the system will save the setting.
5. Go back to the main interface, press the "Confirm" button or press the "Test" button, wait for 25 seconds, and then enter the test interface.
6. Adjust the precision flow valve according to the test needs.
7. When the test is over, press the "Test" button, and the micro-printer will print out the test report.
8. After a single test, if you need to test again, repeat the above test process.
9. After the test, turn off the vacuum pump, then close the flow regulating valve, and turn off the power.
The above is the introduction to the Digital Air Permeability Tester. If you are interested in purchasing, please send me a message!