In today's society, there are several different types of instruments for testing wear resistance. Over time, they have evolved to include different loading conditions and materials, in order to be more realistic and closer to the real situation. Their results are not mutually comparable, and different instruments are often used to report opposite results. Recently, the abrasion resistance is the most common test by the Martin Abrasion Tester, while the Schuber Abrasion Tester in the tangential direction of the process cycle is mostly abandoned.
The abrasion resistance of the Schuber abrasion tester has its advantages and disadvantages. The use of silicon carbide paper provides intensive wear at a lower cycle and tangential direction. Contact the sample with the abrasive. When using the test method, the specimen is moved according to the Lissajous pattern, and the standard wool fabric is worn on the entire surface, which of course helps to obtain reliable results. This method is very suitable for everyday fabrics, but even more so on high-level fabrics. Performance fabric group, the method can be modified, we have discussed before.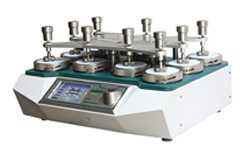 Why is this important?
As we all know, there is a high temperature resistant textile material, Martindale can stand 100,000 mills without quality loss or sample breakdown. Obviously, this type of material will grind wool fabrics, not the other way around. Therefore, the question is whether to determine whether Cordura? Abrasion resistance, or some other similar high-performance fabrics, use test methods, suitable for or methods should be changed to obtain meaningful results?
It is also possible for Martindale to make some modifications to the standard test methods for abrasion resistance, all of which are aimed at achieving significant results. The Department of Textile University Textile Technology Institute, Zagreb has been committed to providing high-quality fabrics for the military and police. Use for a while. Several high-performance fabrics have been studied. The need to determine wet abrasion resistance is one of the key requirements. Throughout the investigation process.
The fabrics used in military and police uniforms are exposed to many physics and chemical agents are used in the most frequent process of frequent use, rain and moisture. Encountered. This means that in addition to testing dry abrasion resistance, the required current standards and standards should be supplemented by wet abrasion tests. This method of determining wear resistance is particularly suitable for damage. When tested, the damaged textile material showed a significant reduction in wet strength. The advantage of state modification is that the same methods, procedures and equipment can be used as drying materials. Similar to the above, both air permeability and water resistance have good abrasion resistance. It is important for high-performance fabrics used by climbers, soldiers, police, firefighters, etc. The test method can be ideally modified to suit the purpose; using the same instruments, procedures and slightly modified methods, it provides the correct insight force. The effect of wear on water or air permeability. More knowledge about the impact of the abrasion resistance test, which is related to air permeability and water resistance, will also be obtained in this way.
In general, the development of materials today is not sufficiently developed. Development of test methods and test equipment. Many testing laboratories have several problems in the testing of high-performance fabrics. The author hopes to prove that it is necessary to develop contemporary high-performance fabrics that can follow the development of methods and equipment.
The above is a detailed answer by Qianshi Testing Instrument for you. There is a detailed answer on how the
Martindale wear tester
can test materials with high wear resistance. Of course, if you want to purchase or have such a need, you are welcome to leave a message and order!