The movable nucleic acid detection sampling cabin can separate the sampling staff from those participating in the nucleic acid detection, providing a safe sampling space.

Device parameters:
After the epidemic is over, the advantages of post kiosks, unmanned supermarkets, supermarkets at the gate of the community, and milk tea shops can be used twice.
Disinfection method: UV disinfection
Mobile: yes
Number of stations: double station (4 people)
Dimensions (mm): 2000*3500*2300 (outside)
1850*2910*2150 (internal)
Cabin material: aluminum alloy + environmentally friendly composite material
Voltage consumption: 220V/50HZ; working 2500W, standby 5W
Color text; can be customized
Fresh air system: intelligent positive pressure fresh air system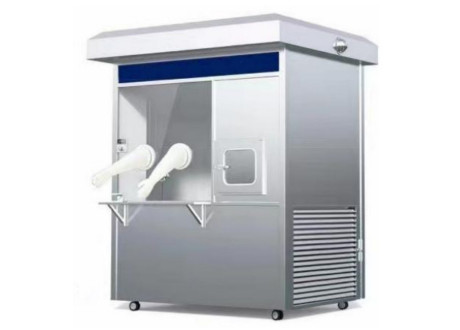 The sampling chamber sends clean and safe air into the room through the fresh air system, and maintains a relatively positive pressure inside. By constructing an isolated positive pressure space, it can effectively prevent the invasion of outdoor viruses, thereby effectively protecting the safety of internal medical staff and preventing them from being infected due to sampling work. Medical staff may not wear protective clothing and masks, and use the ultraviolet sterilization system, which uses the characteristics of high-efficiency filters and broad-spectrum killing bacteria and viruses to kill bacteria and viruses attached to objects.
The nucleic acid detection and sampling cabin is a mobile sampling workshop. Medical staff do not need to wear protective equipment, and use physical protection to conduct nucleic acid detection and sampling for the masses. The sampling room forms a negative pressure space through the fresh air system, which effectively prevents the invasion of outdoor viruses.
The nucleic acid detection sampling cabin is a mobile sampling workshop with a wide range of application scenarios, convenient movement, safety and reliability, welcome to order!
After-sale service:
1. We have an after-sales service team. The company has been engaged in the testing industry for more than ten years and has accumulated rich practical experience;
2. Be able to deal with various problems in a timely and fast manner, and relieve customers' worries;
3. Spare parts are available to solve the trouble of long delivery time for ordering parts;
4. Provide outsourced maintenance services.
QINSUN always takes the customer first as our company's business purpose, constantly improves and improves product quality and service, provides users with more comprehensive overall solutions for instrument applications, and serves you with the spirit of daring to innovate and compete for the first place. Friends who have purchased Infectious Disease Portable Test Sampling Booth, please leave us a message!