The Shoe Sole Bending Tester is used to test the cold resistance of finished shoes, rubber, plastic, soles, synthetic leather, etc., to understand the adaptability of materials or finished products to low temperature climates or cold regions. This machine is made of stainless steel and can be equipped with various resistances, and the clamps can meet different requirements.

Operation steps of Shoe Sole Bending Tester:
1. First adjust the test fixture of the low-temperature bending testing machine to a far away position, and then install the prepared test piece in the fixture and clamp it (when clamping, the outer layer of the test piece is positioned symmetrically outward, and the length direction of the test piece should be Parallel to the axis of the fixture, the edges of the two halves of the test piece should be on the same level).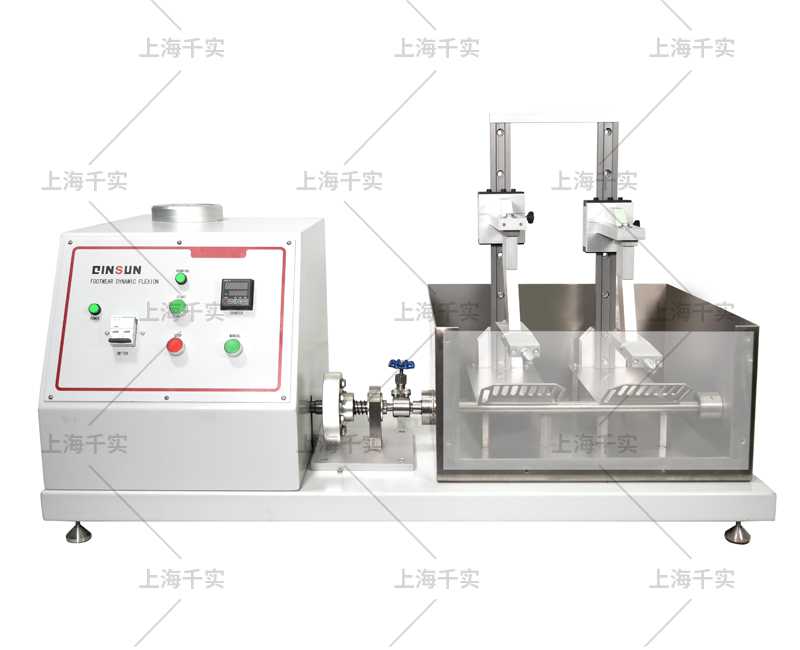 2. Then close each pair of clamps of the testing machine, pay attention to check whether there is an inward wrinkle symmetrically across the test piece when a single test piece is folded, and the wrinkle is formed by a 4 outward folds. surrounded by rhombus.
3. After the test piece is installed, you can set the number of times to be flexed by yourself. After the test temperature of the low temperature bending tester reaches the test temperature (-10±2℃), press the test button to start the repeated bending of the test piece. Folding action, the testing machine starts to count the flexing and folding action.
4. When the number of deflections of the test piece is reached, it will automatically stop, or when the test piece is cracked, it will be stopped manually, and the number of deflections of the test piece will be recorded. It is recommended to check the test piece every 10,000 times of shutdown, and stop the test immediately if a crack occurs.
Result judgment: When the test results of different test pieces in the sample have different grades, they shall be judged according to the lower grade.
It is required that the bending times of the superior product is not less than 60,000 times, and the bending time of the qualified product is not less than 30,000 times. If one or more pieces do not meet the requirements of qualified products, the low-temperature flexural resistance of the samples shall be regarded as unqualified products.
Reminder: Shoe Sole Bending Tester can not only be used for the determination of low temperature flexural resistance of leather, but also various stainless steel fixtures can be installed in the test box according to different test requirements, such as ROSS folding fixtures, sole folding fixtures, shoes Test fixtures for dough stretchers, cold-resistant blowers, etc.
Do you have a deeper understanding of Shoe Sole Bending Tester after reading these? Interested customers are welcome to inquire or leave a message to us for the latest quotation!