The Fabric Tensile Strength Tester is suitable for the tensile test of rubber, plastic, textile, waterproof material, wire and cable, net rope, metal wire, metal rod, metal plate and other materials. It has the functions of digital display of test force, continuously adjustable test speed, automatic shutdown of sample breaking, peak hold and other functions.

The characteristics of Fabric Tensile Strength Tester and how to choose?
1. Automatic reset: the computer receives the test start command, and the measurement system will automatically reset.
2. Automatic return to the car: After the automatic identification of the test breakage, the movable beam will automatically return to the initial position at high speed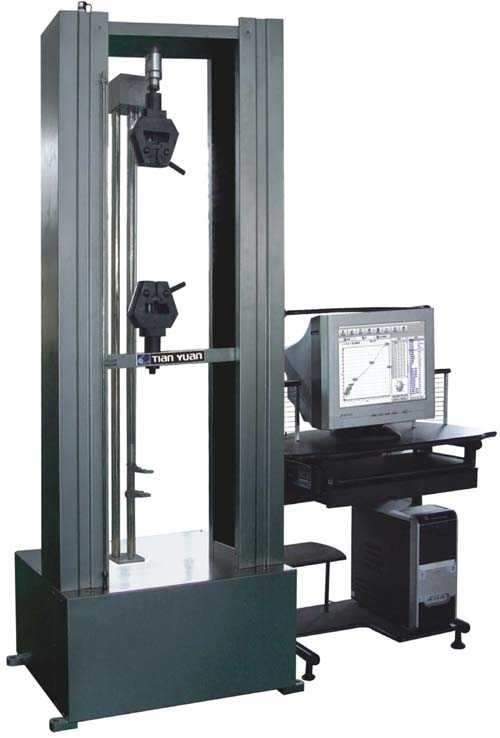 3. Automatic save: The test data and experimental conditions are automatically saved to prevent data loss caused by sudden power failure and forgetting to save.
4. Test process: the test process, measurement, display, analysis, etc. are all completed by the microcomputer
5. Display mode: data and curves are dynamically displayed with the test process
6. Result reproduction: the test results can be accessed arbitrarily, and the data curve can be re-analyzed
7. Curve traversal: After the test is completed, you can use the mouse to find the point-by-point force value and deformation data of the test curve, which is convenient and practical for obtaining test data of various materials.
8. Results comparison: Multiple test characteristic curves can be superimposed, reproduced, enlarged, and presented in different colors for analysis and comparison of a group of samples;
9. Curve selection: You can select the stress-strain, force-time, strength-time and other curves to display and print according to your needs;
10. Batch test: After setting the test with the same parameters once, the test of a batch of samples can be completed in sequence;
11. Test report: (according to customer needs)
Tensile: larger force, tensile strength, elongation at break, elastic modulus, etc.
Bending: greater force, bending strength, deflection, elastic modulus, etc.
Compression: larger force, compressive strength, yield strength, elastic modulus, etc., the test report can also be programmed and printed according to the format required by the user;
12. Limit protection: It has two levels of program control and mechanical protection.
Scope of application of Fabric Tensile Strength Tester:
The Fabric Tensile Strength Tester is a test equipment for measuring the mechanical properties of materials. It can perform the testing of tensile, peeling, compression, bending, shearing, bursting, puncturing, fatigue and other items of metal wires and non-metallic, polymer materials, etc. It can be prepared according to GB, ISO, ASTM, JIS, EN and other standards according to customer product requirements, and can automatically obtain the maximum test force, breaking force, yield force, tensile strength, compressive strength, bending strength, elastic modulus, elongation Elongation, constant elongation stress, constant stress elongation and other parameters.
Do you have a deeper understanding of the Fabric Tensile Strength Tester after reading these? Interested customers are welcome to inquire or leave a message to us for the latest quotation!