The Xenon lamp aging test chamber uses a xenon arc lamp imitating the full solar spectrum, which can reproduce the devastating microwaves in different natural environments, and can provide relative environmental simulation and accelerated experiments for scientific research, product development, and quality management.

The light source generated by the xenon lamp must be filtered before detection to filter out the unused part of the ultraviolet spectrum. Different spectra can be obtained using different kinds of laminated glass filters. The application of the filter depends on the application criteria of the raw material and commodity being tested. Different filters have different cutoff points for the UV short-strand bands that are over-considered, and can greatly compromise the speed and type of embrittlement.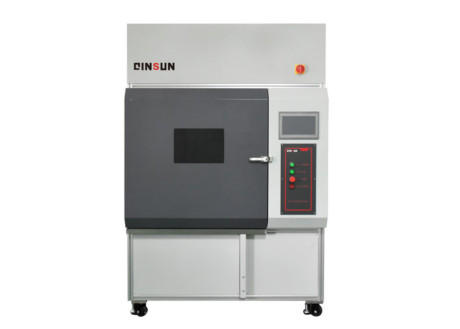 A daylight filter is a commonly used xenon filter that produces a spectrum very close to the midday sun in summer (also known as the solar maximum). However, the UV exposure of the test specimen is far shorter than that of the specific application natural environment, which can accelerate the embrittlement of raw materials, but does not really cause problems related to some raw materials.
Weathering testing of indoor merchandise generally uses glazing filters that simulate natural light passing through glazing. Its important short- and medium-wave UV regions are more realistic. Very important for yellowing of certain raw materials and changes in technical properties.
The xenon arc lamp emits too much short- and medium-wave UV light without filtering, which makes the Xenon lamp aging test chamber a poor simulation of the natural exposure of the Earth's atmosphere, so the Xenon lamp aging test chamber uses various types of filters to reduce xenon Arc lamps emit excess short- and medium-wave radiation. The choice of xenon filter depends on the raw material being inspected and the natural environment of the application. Most filters can reasonably take into account the short and mid-wave portion of the spectrum. But the key differences between the filters are: mid- and short-wave UV light transmission and spectral cutoff points. Different totals of short- and medium-wave UV light have obvious hazards to the dissolution rate and species.
QINSUN is an enterprise specializing in the production of testing equipment. Always take "integrity is gold, service is guarantee, quality is development" as our company's business purpose, constantly improve and improve product quality and service, provide users with a more comprehensive overall solution for instrument application, and dare to innovate and compete for the first spirit. at your service. Friends who have purchased Xenon lamp aging test chamber, please leave us a message!