Waterborne industrial paint testing UV Accelerated Weathering Tester is mainly used in medical and health, environmental protection water industry, food and beverage, chemical testing, biological industry, agriculture, forestry, animal husbandry and fishery, toys, cultural daily necessities, petrochemicals, geology and mining, energy, building materials, furniture, electronics Electrical and communication semiconductors, railway and ship transportation, paper printing and packaging, textile printing and dyeing, clothing, leather, steel and metal, tobacco testing, aerospace, pharmaceutical cosmetics, automobiles and parts, battery power, comprehensive, coatings.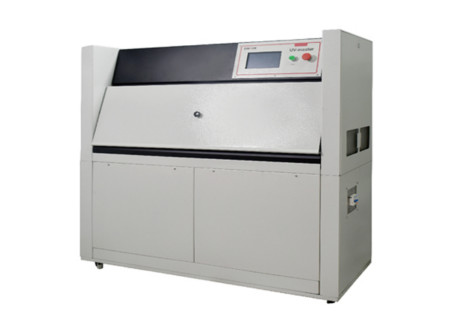 Waterborne Industrial Paint Detection UV Accelerated Weathering Tester meets the standards:
GB/T16585-1996 GB14522-93 GB/T16422.3-97
GB/T14522-93 "National Standard of the People's Republic of China--Plastics, Coatings and Rubber Materials for Machinery Industry Products-Accelerated Test Methods for Artificial Climate"
GB/T16585-1996 "National Standard of the People's Republic of China - Test Method for Artificial Weathering of Vulcanized Rubber (Fluorescent Ultraviolet Lamp)" and GB/T16422.3-1997 "Plastic Laboratory Light Source Exposure Test Method" and other corresponding standard provisions design and manufacture;
Water-based industrial paint detection UV Accelerated Weathering Tester test conditions:
1. The test sample is fixed on the test rack. When facing the fluorescent lamp, when the sample is not filled with the sample rack, the blackboard should be used to fill the sample rack to keep the inner wall of the test box closed.
2. Test temperature. Three temperatures of 50, 60, and 70°C can be used for illumination, and 60°C is preferred; the temperature in the condensation stage is 50°C, and the temperature tolerance uniformity is ±3°C.
3. The cycle of illumination for each condensation can be selected from 4H illumination, 4H condensation or 8H illumination and 4H condensation. After 400 ~ 450H of illumination at one time, each row of lamps needs to be replaced with a fluorescent lamp, and other lamps shall compensate for the loss caused by lamp aging according to the lamp cycle and replacement method. This operating mode ensures that the service life of each lamp is 1600-1800H.
QINSUN is a professional manufacturer of UV Accelerated Weathering Tester for industrial paint inspection. We have more than 20 years of experience. Our products sell well all over the world and have won unanimous praise from customers. If you have friends who buy, please leave us a message!