High temperature and pressure UV Accelerated Weathering Tester is widely used in the sealing performance test of multilayer circuit boards, IC packaging, LCD screens, LEDs, semiconductors, magnetic materials, NdFeB, rare earth, magnets and other materials, and the pressure resistance and air tightness of the above products. carry out testing.

Features of High temperature and pressure UV Accelerated Weathering Tester:
1) The imported high temperature resistant solenoid valve double-circuit structure is adopted, which reduces the failure rate to the greatest extent.
2) Independent steam generating chamber to avoid direct impact of steam on the product, so as to avoid local damage to the product.
3) The labor-saving structure of the door lock solves the shortcoming of the difficulty in locking the disc handle of the first-generation product.
4) Exhaust the cold air before the test; the design of the exhaust air in the test (the air in the test barrel is exhausted) improves the pressure stability and reproducibility.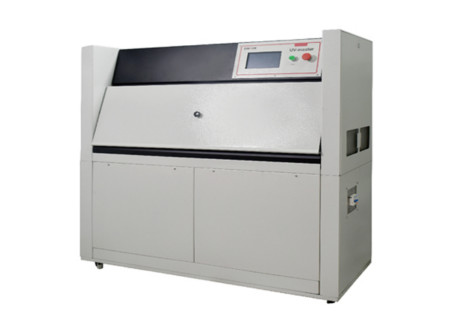 5) Ultra-long-term experimental operation time, the long-term experimental machine runs for 400 hours.
6) Water level protection, which is detected and protected by the water level Sensor in the laboratory.
7) Tank pressure resistance design, the box body pressure resistance (150 ℃), in line with the water pressure test 6kg.
8) Two-stage pressure safety protection device, using two-stage combined controller and mechanical pressure protection device.
9) Safety protection pressure relief button, two-stage automatic pressure relief button of emergency safety device.
10) The withstand voltage of the bias test terminal can reach 3000V (optional)
11) USB export history data, curve.
QINSUN is a professional High temperature and pressure UV Accelerated Weathering Tester exporter, with fast delivery and high reputation, welcome to order!