QS-UV8 Accelerated Weathering Tester is suitable for the aging test of non-metallic materials against sunlight and artificial light sources. The source uses 8 ultraviolet fluorescent lamps with a rated power of 40W as the light source. UV fluorescent tubes are distributed on both sides of the machine, 4 on each side (there are UVA-340 and UVB-313 light sources for users to choose and configure). Reference standard GB/T14522-93 "National Standard of the People's Republic of China - Plastics, Coatings, and Rubber Materials for Machinery Industry Products - Accelerated Test Method for Artificial Climate" GB/T16585-1996 "National Standard of the People's Republic of China - Artificial Weathering of Vulcanized Rubber (Fluorescence) Ultraviolet lamp) test method" and GB/T16422.3-1997 "Plastic laboratory light source exposure test method" and other corresponding standard clauses designed and manufactured.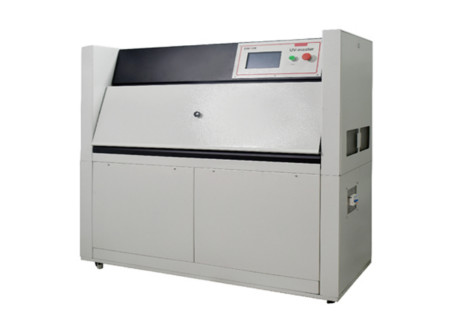 Equipment use: The QSUV8 Accelerated Weathering Tester is used to simulate damage caused by ultraviolet light, rain, and dew, and test materials by exposing them to alternating cycles of light and moisture at controlled high temperatures. It simulates the radiation effect of sunlight with UV lamps and dew and rain with condensation and water spray. In just a few days or weeks, UV irradiation equipment can reproduce damage that would take months or even years outdoors, including fading, color changes, tarnishing, chalking, cracking, Cracks, wrinkling, blistering, embrittlement, strength loss, oxidation, etc., the test results can be used to select new materials, improve existing materials, or evaluate changes in material formulations.
How it works: QSUV8 Accelerated Weathering Tester uses fluorescent UV lamps as light sources to conduct accelerated weathering tests on materials by simulating UV radiation and condensation in natural sunlight to obtain the results of material weatherability. It can simulate the environmental conditions of ultraviolet, rain, high temperature, high humidity, condensation, darkness and other environmental conditions in the natural climate. By reproducing these conditions, it can be combined into a cycle and let it automatically execute the number of cycles.
If you are interested in the QSUV8 Accelerated Weathering Tester, please leave us a message.