UV-30 Accelerated Weathering Tester uses imported UVA-340 fluorescent ultraviolet lamp as light source, which can simulate the damage caused by sunlight, rain and dew. The UV weatherproof box uses fluorescent ultraviolet lamps to simulate the effect of sunlight, and uses condensed moisture to simulate dew. The material to be tested is placed in a cycle program of alternating light and moisture at a certain temperature for testing, and an accelerated weather resistance test is performed on the material to obtain the results of the material's weather resistance.

Standards compliant:
The UV-30 Accelerated Weathering Tester complies with all current UV weathering test standards following ASTM G 153, ASTM G 154, ASTM D 4329, ASTM D 4799, ASTM D 4587, SAEJ2020, ISO 4892.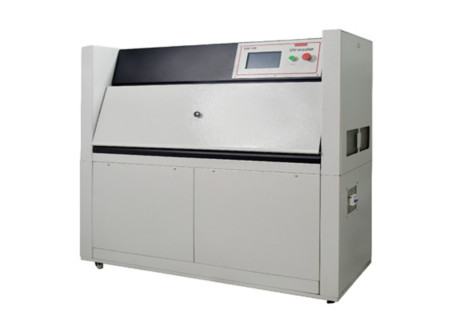 Technical Specifications:
▶Studio size: about 450×1170×500mm
▶Overall dimensions: about 600×1310×1350mm
▶The center distance of the lamp: 70mm
▶The distance between the specimen and the nearest parallel surface of the lamp surface: about 50mm
▶Wavelength range: UV-A wavelength range is 315~400nm
▶Radiation intensity: 1.5W/m2/340nm
▶Temperature resolution: 0.1℃
▶Light temperature range: 50℃~70℃/temperature tolerance is ±3℃
▶Condensing temperature range: 40℃~60℃/temperature tolerance is ±3℃
▶Measuring range of black panel thermometer: 30~80℃/tolerance is ±1℃
▶Temperature control method: PID self-tuning temperature control method
▶ Humidity range: about 45%~70%R.H (light state)/98% or more (condensation state)
▶Sink requirements: the water depth is not more than 25mm, and there is an automatic water supply controller
▶Standard specimen size: 75×150mm 48pcs
▶Recommended instrument use environment: 5~35℃, 40%~85%R·H, 300mm away from the wall
Please leave us a message if you are interested in UV-30 Accelerated Weathering Tester.