Sweating Fabric Manikin (Walter) is a new generation of Sweating Fabric Manikin developed by QINSUN in conjunction with famous professors from the University of Hong Kong. It currently has a good performance in various industries.

1. Military applications.
1) Research on the heat transfer mechanism of individual fire-retardant equipment. Sweating Fabric Manikin is used to simulate battlefield fire conditions of different strengths, the changes in the heat flow and skin temperature of the human skin surface, and create good human-clothing-fire field environmental conditions, which is flame-retardant for individual soldiers The research of equipment heat transfer mechanism provides an important research method.
2) Research and selection of flame-retardant fabrics for individual equipment. The Sweating Fabric Manikin system quantitatively tests the flame-retardant properties of different individual equipment fabrics, guides the research of flame-retardant fabrics, and screens out flame-retardant fabrics with excellent performance.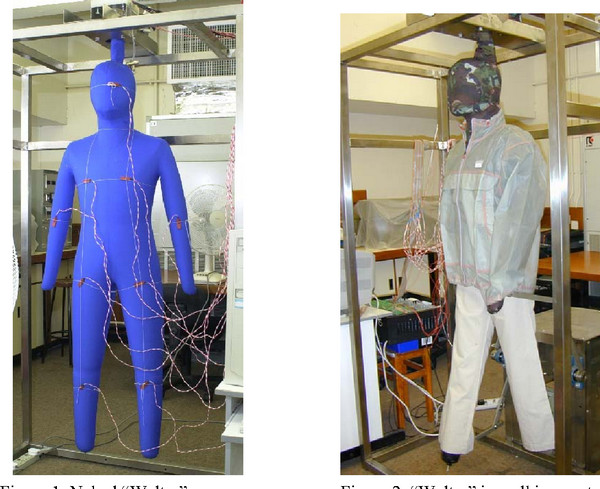 3) The structure and style design of individual fire-retardant protective equipment. The structure and style of individual fire-retardant protective equipment have a great influence on its flame retardant performance. Even if the equipment fabrics are the same, but the structure is different, or the openings are different, its flame retardant Performance also shows a big difference. The Sweating Fabric Manikin reproduces the actual wearing condition of the human body in the fire field, and guides the structure and style design of individual flame-retardant protective equipment such as flame-retardant combat suits, nuclear, biological and chemical flame-retardant combat suits, flame-retardant footwear and other flame-retardant protective equipment.
4) Research on special functional individual flame-retardant protective clothing. Special functional individual flame-retardant protective clothing refers to work clothes used in special work and training environments. Different work environments have different flame-retardant requirements. Special work is simulated by Sweating Fabric Manikin. The human body's response to the fire field or heat radiation under conditions, to guide the research of special functional individual fire-retardant protective clothing.
2. Social applications.
The Sweating Fabric Manikin test technology can be widely used for reference in the fields of university teaching and research, personal protective equipment research, armed police and public security personnel protective equipment development; it can be widely used in fire fighting clothing, fire insulation clothing, fire protection clothing, fire shoes and boots Research on fire-fighting equipment and fire treatment, etc.; it can also conduct academic exchanges with technologically advanced countries such as the United States and Canada to promote the integration of international clothing ergonomics research.
3. Economic application.
Sweating Fabric Manikin can simulate people to conduct various experiments, and provide scientific basis for clothing performance testing and various performance tests.
The above is the practical application value of Sweating Fabric Manikin that QINSUN Group will answer in detail for you. Of course, if you want to purchase or consult, you are welcome to come and consult for details.