Plastic and rubber are widely used in life, they are often exposed to sunlight, because of the role of aging factors such as ultraviolet light, aging will occur over time.
Plastic UV aging tester
can be used to test the UV aging resistance of plastic rubber and other materials of the equipment.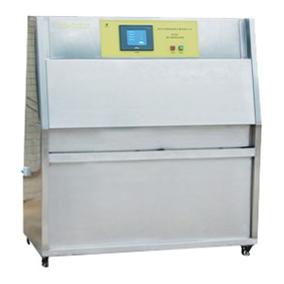 UV aging tester structural features:
1、The moisture supply system consists of water tank, humidification system, etc., through the moisture condensation mechanism, so that the exposed surface of the specimen condensation wet, simulating rain, high humidity, condensation and synergistic action with the sun (UV) darkness to create a test environment.
2、 UV aging test chamber using U-type titanium alloy high-speed heating electric heaters.
3、 UV aging tester adopts A/D control module for PID temperature and humidity regulation, to ensure the precision of temperature (humidity) control. Multi-point fault, information display, easy to check and troubleshoot.
4、
UV aging tester
light and condensation, spraying can be independently controlled or alternate cycle control.
5、Automatic water supply and water replenishment function system. Water system using back vortex type and U-type accumulation device drainage, easy to maintain.
6、UV aging tester adopts Japanese imported Siemens PLC and domestic text display communication control, easy and intuitive to operate.
7, Single circulation air duct system, there is 1 imported axial fan, improve the air flow, heating capacity, and significantly improve the temperature uniformity of the test chamber.
8, UV aging tester adopts intelligent temperature control instrument to control heating, output power are calculated by microcomputer, PID self-tuning. Monitoring using the standard Pt-100 black plate temperature sensor.
9, Plastic UV aging tester shell and liner are made of stainless steel pressed, durable, rust and corrosion resistant.