The UV Accelerated Weathering Tester is used to simulate all-day weather: artificial accelerated tests in sunlight, spray, and dew environments. Evaluate the changes of materials in terms of fading, color change, gloss, cracks, blistering, embrittlement, oxidation, etc., so as to provide a basis for the improvement of material formulations and the improvement of product performance.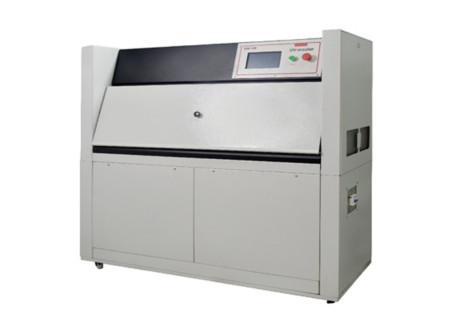 What test criteria does the UV Accelerated Weathering Tester meet?
1. General: ASTM G151, ASTM G154, JIS D 0205, SAE J2020
2. Coating industry: ASTM D3794, ASTM D4587, FED-STD-1418, GM 9125P, JIS K 5600-7-8, ISO 11507, ISO 20340, M598-1990, NACE TM-01-84, NISSAN M0007, PrEN 927 -6
3. Adhesive: ASTM C1184, ASTM C1442, ASTM D904, ASTM D5215, UNE 104-281-88
4. Plastic: ANSI C57.12.28, ANSI.A14.5, ASTM D4328, ASMT D4674, ASTM D5208, ASTM D6662, DIN 53 384, ISO 4892-3, JIS K 3750, UNE 53.104
5. Roofing material: ANSI/RMA IPR-1-1990, ASTM D4799, ASTM D4811, ASTM D3105, ASTM D4434, ASTM D5019, BS 903: partA54, CGSB-37.54-M, DIN EN 534
6. Printing inks, art materials: ASTM D3424, ASTM F1945
7. Textiles: AATCC TM 186, ACFFA Guideline
QINSUN is mainly engaged in the manufacture and export of UV Accelerated Weathering Tester. If you are interested, please leave us a message!