Three factors that lead to material aging
There are three main categories of factors that cause material aging, they are:
1. Sunlight;
2. Temperature;
3. Moisture.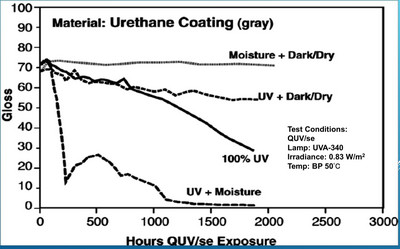 The graph above shows from top to bottom:
● The first curve: only the influence of humidity and no light on the aging gloss of the product. As time goes on, the gloss does not change significantly.
● The second curve: only UV irradiation, in the case of drying during the day and night, the gloss change curve.
● The third curve: complete UV irradiation, regardless of day or night, the product gloss change curve.
● The fourth curve: UV irradiation plus humidity, product gloss change curve.
Conclusion: Only UV irradiates the product all the time. After a long time, a protective layer will be formed on the surface of the product and will not age. In a humid environment, thermal expansion and cold contraction will occur, and the product will age faster. If there is a spray, it will have an impact on the surface of the product, destroy the protective layer, and make the aging phenomenon more obvious. This synergy is closer to the actual outdoor weather environment. .
Leave us a comment for more aging information about the UV Accelerated Weathering Tester!