Xenon lamp aging test chamber using xenon arc lamp that can simulate the full sunlight spectrum to reproduce the destructive light waves present in different environments, according to the test standards and methods are divided into three kinds are air-cooled xenon lamp, water-cooled xenon lamp, desktop xenon lamp, of which the main difference is the temperature, accuracy, time, humidity, etc., the following xenon lamp aging box manufacturer to give you a detailed introduction to the air-cooled xenon lamp aging tester.
Air-cooled xenon lamp aging box is also called air-cooled xenon lamp aging box, is a way to use the blowing wind to take away the excess heat emitted by the xenon lamp lamp, its technical difficulty, the device is relatively simple, and the cost is relatively cheaper than the water-cooled xenon lamp aging tester. The aging test chamber in the test chamber on top of the installation of one or more air-cooled xenon lamp.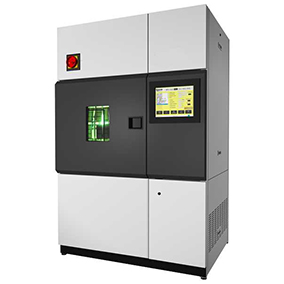 In this system, its filter is flat, so it is sometimes called a flat xenon lamp aging chamber, the filter is placed in the lower part of the lamp, while the top and side of the test chamber are equipped with a reflection system to enhance the uniformity of irradiance distribution. Samples for testing are placed on a shelf below the lamp. The flat sample compartment is tilted at a slight angle to facilitate the flow of water when spraying or condensing.
Technical parameters of air-cooled xenon lamp aging tester.
Temperature range: RT +10℃~70℃
Humidity range: 65% ~ 98% RH
Black plate temperature: 63 ℃ ~ 100 ℃
Temperature uniformity: ≤ 2.0℃ (when dark)
Temperature fluctuation: ±0.5℃ (when dark)
Humidity deviation:+2、-3% RH
Water spray nozzle aperture: Ф0.8mm
Rainfall water pressure: 0.12~0.15Mpa
Rainfall time: 1 ~ 999M, continuous rainfall adjustable
Spraying cycle: 18min/102min or 12min/48min (spraying time/stopping time)
Light cycle: 1 ~ 999h, m, s continuously adjustable
Sample tray size: 450 × 720mm
Sample holder and lamp distance: 230 ~ 280mm
Wavelength:290~800nm
Radiation intensity: ≤ 550W/㎡
Xenon lamp power: 2.5KW × 3 = 7.5KW
Heating power: 3.0KW
Humidification power: 2.0KW
Outer box material: high-quality A3 steel plate electrostatic spraying
Inner box material: imported senior stainless steel SUS304
Temperature and humidity controller: "Taiwan Willen" touch screen + "Germany Siemens" PLC module
Temperature and humidity sensor: PT100 platinum resistance temperature measurement body
Standard configuration: 3 lamps, sample rack 1 layer
Safety protection: compressor overpressure, compressor overload, water shortage protection, fan motor overheating overall
Equipment over temperature, the overall equipment under-phase / reverse phase, the overall equipment
Overall equipment timing leakage protection, water shortage protection, automatic shutdown after the fault alarm and other protection
Power supply voltage: AC380V±10% 50Hz
Power: 14.5KW
Using environment: 5℃~+28℃ ≤85% RH