The horizontal method of
fabric flame retardancy tester
is used for the horizontal direction of textile fabric burning performance determination, mainly for qualitative assessment of the single material or laminated composite materials used in automotive interiors flammability performance.
Fabric flame retardancy tester 8 important technical parameters.
1. Flame application time: 0-999.9s±0.1s adjustable
2. Delayed combustion time: 0-99h59m59.99s±0.1s, manual start/pause
3. Combustion box installation: the bottom of the combustion box from the bottom of the equipment 10mm
4. Test wind speed: 100mm before and after the combustion box air vertical velocity between 0.10m / s ~ 0.30m / s, and the right side of the equipment plus change the anemometer to monitor the outlet
5. U-shaped bracket: two U-shaped stainless steel plate made of the upper bracket behind the 2 pin holes, the next support plus the corresponding 2 pins, and cloth with a line diameter of 0.25mm and the spacing of 25mm heat-resistant metal support line
6. Gas lamp: 9.5mm inner diameter, the center of the mouth of the lamp is in the center of the free end of the sample 19mm below and can be automatically ignited
7. Gas: the use of liquefied gas, but also available combustion calorific value of 35MJ/m3 ~ 38MJ/m3 of other combustible gases (such as natural gas, city gas)
8. Power supply: 220VAC-15%~220VAC+10% 500W (single-phase three-wire system)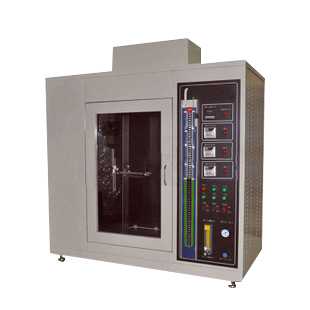 The fabric flame retardancy tester
7 technical features:

1. Equipped with sealed stainless steel combustion chamber and observation window, stainless steel using 316 type material, high temperature and high pressure resistance;

2. With overhanging drum structure, and with steel spring and vibration damping system, can be smoothly operated;

3. Equipped with specimen holder and door burner;

4. Basic mode with manual timing control;

5. Specimen holder can be moved up and down, left and right;

7. Equipped with automatic gas control system including electromagnetic control gas valve, automatic ignition timer and controller.

Fabric flame resistance tester is mainly applied to seat cushions, seat backs, seat covers, seat belts, headrests, armrests, movable folding roofs, all decorative linings, instrument panels, grocery boxes, indoor cargo shelf panels, or rear sill plates, curtains, floor coverings, etc.

Want to know more about the fabric flame retardant tester please pay attention to us, online to us message!