With the improvement of living standards, consumers are not only pursuing clothing to cover the body and practicality, but also pay attention to the comfort and health of clothing. For underwear and other underwear, the moisture wicking property of fiber materials is one of the important factors that affect the wearing comfort of clothing. Therefore, the
Dry Wet rubbing fastness Tester
was born on the market.
Modern consumers' interest in clothing lies not only in its gorgeous appearance, but also in its comfortable feel. Comfort is the basic requirement of consumers; the widely accepted definition of comfort includes the following aspects:
(1) Physiological comfort of heat and humidity;
(2) Comfortable exercise;
(3) Sensory comfort;
(4) The beauty of clothing; thermal comfort has always been the research direction, and moisture absorption and quick drying are the most important part of wet comfort.
With reference to the testing standards of the textile testing industry, QINSUN instrument independently developed a Dry Wet rubbing fastness Tester for testing products through three performance indicators: vertical wicking height, diffusion area and drying rate:
Scope of application
It is used to test and evaluate the moisture absorption of various textiles, and evaluate the moisture absorption of textiles through the evaporation rate of water.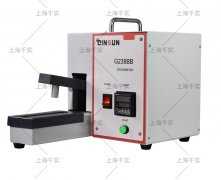 technical parameter
1. Working voltage: AC220V/50Hz
2. Instrument weight: 75 kg
3. Instrument power: 1000W
4. Fineness: 0.001g
5. Instrument size: 200×670×840mm
Instrument characteristics
1. Industrial color touch screen display control, durable and easy to operate.
2. The key parts are made of aluminum to prevent deformation.
3. The real-time curve display of the experimental state data can better observe the quality change, and can display the curve of 10 stations at the same time.
4. Using drive motor, the whole machine rotates, running up and down stably, with low noise.
5. The test weighing time interval can be set, and there are two termination methods: mass change rate and test time.
6. It can be connected to a computer for operation, and all test data and curves can be stored for easy query and printing.
7. The test data is accurate, and the evaporation rate can be calculated manually or automatically, which is available for query.
standard
GB/T 21655.1 2008
QINSUN is very in place for textile testing and quality control.We have our own textile testing lab. Our textile testing equipment and testing methods are in the leading position in the industry,we have passed the textile testing certification and iso textile testing standards issued by a number of testing.We can provide textile testing techniques pdf manual,based on requirement, the product specifications will be changed accordingly.
Our textile testing instruments are sold well in the US, UK, Pakistan, Bangladesh, India and other regions,welcome to order.