Multi Finger Scratch Tester is used to evaluate the cutting, scratching, planing, scratching and engraving performance of materials. Its application areas include: rigid organic materials, plastics and glass, etc. The wood-based panel scratch tester is used to test the scratch resistance of the surface of the material. It is developed for the scratch resistance test test of various types of wood-based panels and veneer wood-based panels, and can meet GB/T17657-1999 "Man-made panels and veneers" Test Methods for Physical and Chemical Properties of Wood-based Panels, which carry out the "scratch resistance test" test, is an ideal testing equipment for quality inspection departments at all levels and wood-based panel manufacturers, and can provide you with accurate test results.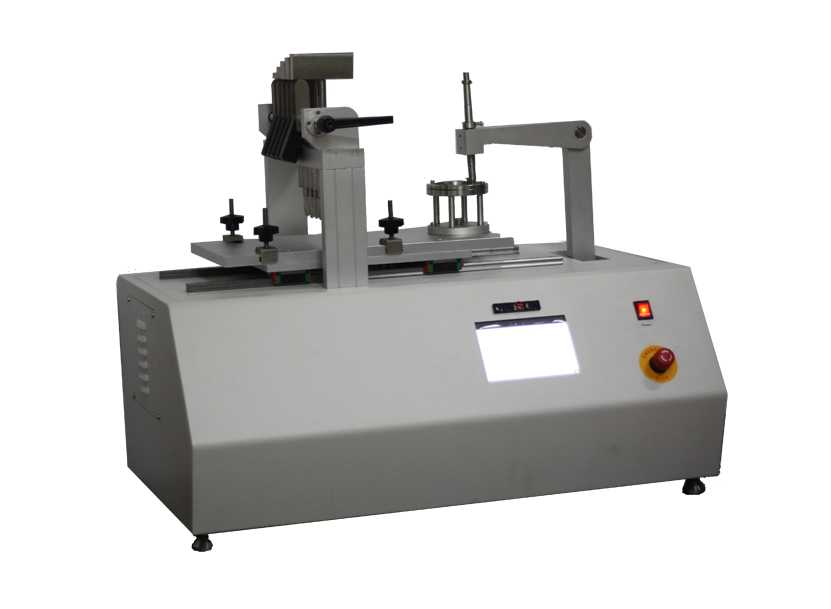 Multi Finger Scratch Tester application:
Multi Finger Scratch Tester is used to evaluate the cutting, scratching, planing, scratching and engraving performance of materials. Its application areas include: rigid organic materials, coating adhesives, powder coatings, anodized materials, soft metals, plastics and glass, etc. It can also be used to test the adhesive quality of the same materials, protective coatings and the ultimate performance of similar materials. Taber 551 is simple to operate and easy to move. It can test 1/2" to 4" thick square or round materials.
Multi Finger Scratch Tester meets the standards:
GB/T17657-1999, ISO 4586-2, JIS K6902, Terrazzo 90322-9E-1, UNI 9428 Furniture, AS/NZS AS2924.2, ASTM C217, DIN 53 799, DIN 68 861-4
technical parameter:
1. Maximum test pressure: 5N
2. Rotation speed of test piece: 5±1r/min
3. Test force accuracy: ±2%
4. Maximum size of test piece: Φ90~Φ100mm
5. Dimensions: 120×120×480mm
6. Weight: 15kg
Multi Finger Scratch Tester operation:
Before loading the sample, you need to adjust the weighing bar to a suitable height according to the thickness of the sample. The precision cutting tool is installed on the weighing beam and placed on the sample. Start the instrument, and the turntable rotates at a constant speed to ensure accurate measurement results. By changing the load of the cutting tool, you can evaluate the material's shear or scratch resistance.
QINSUN always been committed to innovation and improve product performance and functionality, we have our own textile testing lab. Our textile testing equipment and testing methods are in the leading position in the industry and have passed the textile testing certification and iso textile testing standards issued by a number of testing.based on the reasons, the product specifications will be changed accordingly.
Why choose Multi Finger Scratch TesterQIUSUN?
1. We have professional pre-sales engineers, who can formulate personalized solutions according to your needs before you buy. Our company can customize production for some products.
2. Our company's products are cost-effective, complete in variety, adequate inventory of related accessories and consumables, and fast delivery.
3. We have established a complete after-sales service mechanism in all regions of the country, from installation, maintenance, training to all links, including your users can conduct a second training after they leave, to ensure that you do not have to worry about after-sales when buying our products.
4. High user acceptance. Our company has 12 years of industry experience, closely following industry standards, and our products sell well to more than 20 countries in Southeast Asia and are widely recognized by users. We not only provide you with high-quality, cost-effective products, but also provide you with one-stop solutions. The added value that engineers bring to you far exceeds that of peers.

Warranty commitment:
The instrument purchased by the user has quality problems during normal use. For example, within the warranty period (one year), please contact the manufacturer or repair station directly according to the method indicated in the product warranty card or manual and other related materials. If your request is not answered, please contact our customer service center in time, and we will assist you in safeguarding your rights.

Similar products recommendation:
multi-finger scratch/mar tester 710
multi-finger scratch and mar tester
multi-finger scratch/mar tester
taber multi finger scratch tester
taber multi finger scratch/mar tester
taber multi-finger tester
Taber 710 Scratch and Mar tester
Elcometer 710 Taber