The circular trajectory pilling instrument is used to test the pilling condition of wool fabrics, chemical fiber cotton, blended spinning, knitting, and woven fabrics to identify product quality and process effects. During the test, the fabric rubs with the nylon brush and the abrasive, or rubs with the abrasive only under the condition of humidity control.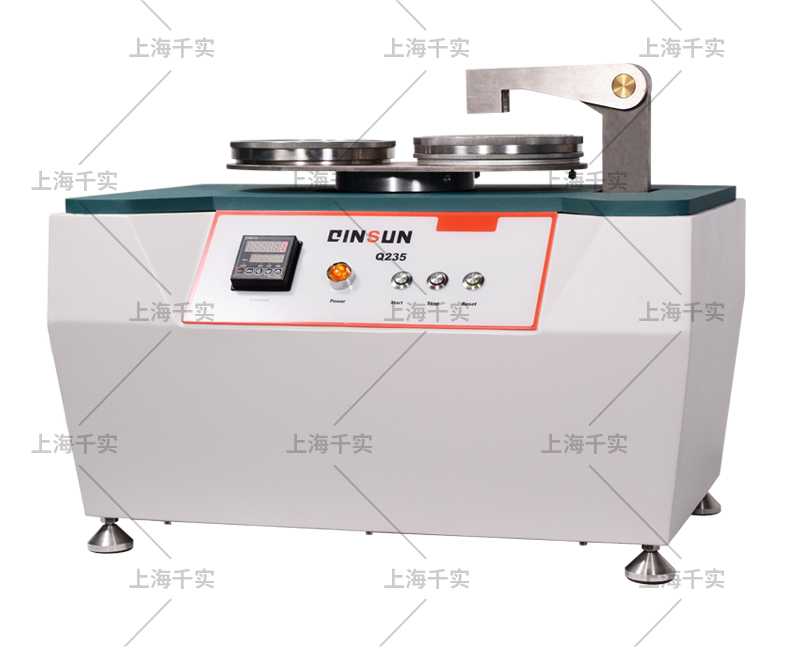 Test principle:
According to the specified methods and experimental parameters, use nylon brushes or single-use abrasives, or friction with abrasives only in a humidified state, to make the fabric friction and pilling, and then under the specified lighting conditions, compare the pilling samples , To assess the pilling level.
Technical Parameters:
   1. The surface contact gap between the grinding head and the grinding table ≤0.2mm
   2. Parallelism between grinding head and grinding table ≤0.3mm
  3. The relative movement track of grinding head and grinding table 40±1mm
  4. The nylon brush surface is flush, and the height difference is <0.5mm
  5. Grinding table reciprocating speed 60±1 times/min
   6. Weight of grinding head 490cN±1%
  7. Heavy hammer weight 290cN±1%
   8. Small heavy hammer weight 100cN±1%
  9. Frequency selection 1~9999
  Instrument installation:
   1. Place it on a firm workbench, and place a layer of rubber cushion on the workbench to prevent the instrument from sliding when it is working.
   2. Adjust the foot nut to make it level.
   3. Check whether the power supply voltage meets the requirements of 220V±10%, and connect the ground wire to the socket.
   Raising test:
   1. Take the sample and clamp it into the sample chuck correctly and firmly. Set the number of frictions to the counter according to GB/T4802.1-97.
   2. Select the sample weight according to the regulations, if you need to increase the weight, you can tighten the required weight on the chuck shaft.
   3. Put down the sample chuck so that the sample is in contact with the surface of the brush.
  4. Press the "RUN" key, the instrument can rotate according to the set number of times, and the instrument will automatically stop when the set number is reached.
   Pilling test:
   1. Set the counter times according to GB4802.1-97.
   2. Take the sample correctly and firmly clamp it into the sample chuck.
   3. Put down the sample chuck so that the sample is in contact with the abrasive surface.
   4. Press the "RUN" key to make the instrument do the ball up work.
   5. After the machine stops automatically, turn up the sample chuck and remove the sample after the grinding test for evaluation.
For more information, please visit us at:
https://www.qinsun-lab.com/index.html
O
r write email us to info@qinsun-lab.com