The Walter Sweating Fabric Manikin is a test device used in a wide range of applications such as garments and protective clothing.

The basic principle of the device is to use a dummy to simulate different situations where water drops of varying sizes fall on a specially designed fabric to simulate rain drops, sweat drops etc. Once the simulation is complete, the fabric is removed and analytical techniques are used to obtain information on the amount of water vapour and heat absorbed, evaporated and transmitted by the fabric, thus testing the water, sweat and other properties of the fabric, as well as the effect of the fabric on the body's defensive capabilities.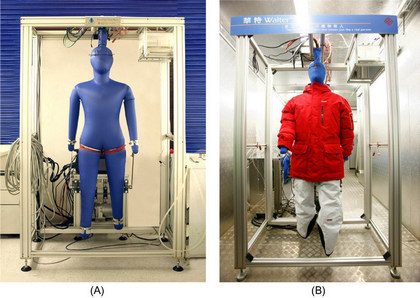 In addition, the Walter sweat fabric dummy can be used in a variety of positions and various dynamic and static actions to critically assess the mechanical properties of protective clothing, wearing comfort, stability testing when the centre of gravity is shifted and other items. For example, bullet-proof vests worn by the armed forces, special forces and other professions need to undergo rigorous testing to verify their resistance to impact and wearing comfort, and the Walter sweat fabric dummy can provide valuable assistance in the development and production of such products.
In summary, the Walter Sweat Fabric Dummy is an important piece of testing equipment that will help manufacturers and developers to optimise the design and production of garments and protective clothing with a wide range of characteristics to provide consumers with a higher quality product that will better protect their safety and health.
Where is the best place to buy Walter Sweating Fabric Manikin?
1. Contact the manufacturer directly: You can find the manufacturer of Walter Sweating Fabric Manikin, know their sales policy, and buy directly, here recommend QINSUN Instruments, as a supplier with many years of experience in manufacturing Walter Sweating Fabric Manikin, their quality Still worth recommending.
2. Professional suppliers: You can contact professional suppliers, such as testing instrument sellers or clothing testing equipment suppliers, and ask if there is Walter Sweating Fabric Manikin for sale.
Note that the Walter Sweating Fabric Manikin is a high-end test equipment and is more expensive. Before buying, please make sure that you really need this kind of equipment and have enough understanding of its use and maintenance.