Whether it is an aircraft or a train, or even our more common cars, they will do some interior trim, the choice of these interior materials is very important, especially the fire performance needs to be strictly controlled, only then can we guarantee the safety of use. Now, the emergence of vertical combustion tester for interior materials, to help you better improve the fire performance of the interior, to enhance safety, next together to understand the vertical combustion tester for interior materials product features.

The interior material vertical combustion tester has the following 3 main features, you deserve to have:
First
The steel structure of the interior material vertical combustion tester is in line with the standard requirements, the test instrument on the market now must comply with the national standards in order to protect the accuracy of the test results, we must choose quality products when purchasing the test instrument, in general, the market now for the steel structure requirements are very strict, you can start from this perspective when selecting.
Second
The design of the large observation window of the vertical combustion tester for interior materials is very necessary to facilitate the observation of the burning state of the specimen, the more we know about the burning situation, then, the more we can meet the security of the future, so now we must pay attention to this point when selecting the instrument, that is, whether it can have a large viewing window, so that the instrument looks more realistic, for the test results also The instrument looks more realistic and has a better effect on the test results, so when we choose a vertical combustion tester for interior materials, we can give priority to this kind of instrument.
Thirdly
Interior material vertical combustion tester in the use of the process, the test time and the application of fire time can be set on the touch screen, 10 minutes without experimental action automatically cut off the fire, so that we can guarantee the safety of the experiment, not only need to test the safety of the interior, the safety of our entire experimental process is also very necessary.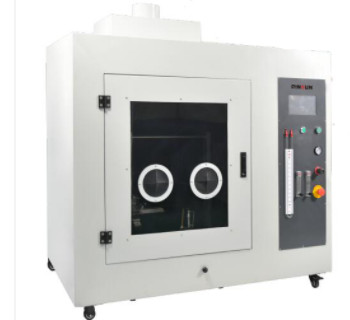 About the interior material vertical combustion tester products are introduced here, now the market is still very many kinds of products, if you want to pick a better quality instrument, must choose the right manufacturer, the general reputation of professional manufacturers are more trustworthy, here I strongly recommend QINSUN instrument this manufacturer, ten years of deep plowing, the product is worth your choice.