What are the types of chemical performance tests for textiles? How should it be done? Now let Hacotony Instruments introduce you to the experimental methods for all types of textile chemical performance tests

1. The main test items are: formaldehyde test, pH test, water repellency test, oil repellency test, stain resistance test, flame retardant test, fibre composition analysis, banned azo dyes test, etc.
2. Basic content.
1) Formaldehyde test: through a certain way to a certain amount of free formaldehyde or released formaldehyde in the fabric extracted, and then through the colorimetric test, to calculate the formaldehyde content. Specific tests are carried out according to customer requirements.
On the market today, textile products can be finished with resins to improve the wrinkle resistance of the product. These resin finishes are synthesised directly from formaldehyde and therefore a certain amount of formaldehyde remains in the fabric after these resin finishes. In addition, the cross-linking agents in paint printing pastes and the fixing agents used in direct and reactive dyestuffs to improve fastness to dyeing can cause a certain amount of formaldehyde to remain on the garment material. These formaldehyde can be determined by certain testing methods.
2) pH test: The pH meter is used to accurately measure the acidity and alkalinity of the fabric solution. The value read out on the pH meter is the pH value measured.
3) Water, oil and stain resistance test: the resistance of the fabric to water, oil and stains is measured in a certain way, mainly for fabric types that have undergone a three-proof finishing.
4) Flame retardant test: the specimen will be put on the flame retardant tester according to the regulations for burning, to see its flame spread time.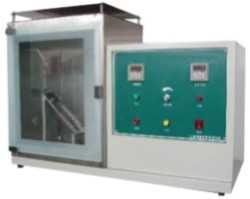 5) Fibre composition analysis: First of all, the fibres of the fabric are analysed qualitatively, and there are many kinds of qualitative analysis, including burning method, melting point method, manual visual inspection method, microscope slice analysis method, etc. The microscope slice analysis method is generally used, i.e. the fibres are sliced with a slicer and then observed under a microscope to determine the type of fibres according to their external appearance, and then different fibres are analysed qualitatively with different solvents to work out the specific The content of the components is then determined by qualitative analysis using different solvents.
6) Azo dyes test: This is one of the most important quality control items in the international textile and clothing trade and is one of the most basic quality indicators for eco-textiles. The azo dye test is divided into three methods, textiles (textiles other than polyester and leather), polyester (polyester) and leather (leather), so it is important to provide the composition of the product when doing the azo test.
QINSUN Instruments specialises in the production and development of all types of textile testing equipment: furniture testing instruments, toy testing instruments, textile testing instruments and general testing instruments. Welcome to order