The Salt Spray Test Chamber is suitable for testing the corrosion resistance of items in general laboratories. It is currently used in a wide range of industries, suitable for aerospace, automotive instruments, electronic instruments, mobile phone digital technology and a range of other industries, to test how corrosive the sample is and also to mimic the conditions under natural conditions or working conditions, and also for knowing how the sample performance temperature changes. The results of this test have also been used as a standard with detailed specifications.

Do you know the principle of the Salt Spray Test Chamber?
The principle of the Salt Spray Test Chamber is simple. The corrosive solvent is transformed into an air spray and the sample is sprayed.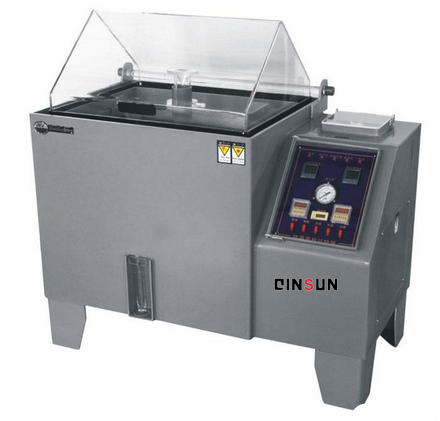 The corrosive solvent in the equipment is a 5% concentration of sodium chloride or 0.26g of copper chloride per litre of sodium chloride solution as the test solvent. In addition, the equipment automatically controls the amount of settling and spraying to effectively ensure a stable temperature during the experiment, simple operation and a stable test environment. It is therefore often used to test the corrosion resistance of everyday products or chemicals.
The equipment can maintain a stable state at any temperature point between room temperature and 50°C during the working process. In the specified test chamber, the temperature and humidity are maintained in a stable condition for the corrosive test of the test sample. The chamber is constructed from corrosion-proof PVC plastic sheeting, so that no chemical reactions can occur that could cause discrepancies in the test results.
The above article on the Salt Spray Test Chamber for testing the corrosion resistance of textiles is intended to be of assistance.