Glow Wire Tester is used to determine the fire resistance of insulating parts, or determine the fire hazard of electrical parts and components that may ignite and spread the flame to the rest of the product due to overload, short circuit, poor connection or other faults. Glow Wire Tester is widely used in the household appliance industry to test the fire safety of terminal products or raw materials.

The Glow Wire Tester from QINSUN, adopts the Indirect Method(Known as the IEC Method, compared to DirectMethod, defined in UL94Method), to stimulate an overloaded resistor or other ignition source and applies heat to the specimen for a short period of time, and simulates as closely as possible actual effects occurring in practice.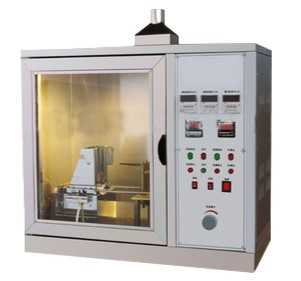 The attached thermocouple is equipped with a temperature controller, which can accurately measure the temperature of the hot wire. The circuit of the control unit is fully protected by fuses and miniature circuit breakers. QINSUN Glow Wire Test Equipment is a fully automatic instrument, which is contained in its own cabinet, to maximize the safety of operators, and the large observation window and black wall ensure convenient observation.
SPECIFICATIONS:
Glow Wire Ø 4mm ± 0.04mm Ni/Cr (80/20), standard
Temperature Range 500 ~ 1 000 °C± 2 °C adjustable
Sample pressure 1N ± 0.2 N
Test speed 18 ± 3 mm/s
Test mode automatic control, independent convulsions
Chamber ≥0.5m
Control single chip microcomputer + touch screen control
STANDARDS:
IEC 60695-2-10
ASTM D6194
UL 746A
GB/T 5169.10~13