What is the purpose of protective clothing?Medical protective clothing should not only be moisture permeable and comfortable to wear, but also protect medical personnel from infection by viruses, bacteria and other pollutants during the treatment process. It is surprising that such an effect can be achieved?

Medical protective clothing that requires "three rejects and one resistance", i.e. water, blood, alcohol and anti-static, is made of micro and nano level materials, unlike the general weaving materials. This composite material can be compounded with different materials, such as polyethylene/polypropylene spunbond nonwoven, with breathable microporous film or other nonwoven fabrics, or with spunlace nonwoven and breathable microporous film, or with wood paddle composite spunlace nonwoven.
Several medical protective clothing being sold and developed on the market at present use
Nonwoven materials are mainly the following.
1. Polypropylene spunbond fabric
2. polyester fiber and wood pulp composite spunlace fabric
3. Polypropylene spunbond a meltblown a spunbond composite nonwoven fabric, namely SMS or SMMS
4. Polyethylene breathable film/nonwoven composite fabric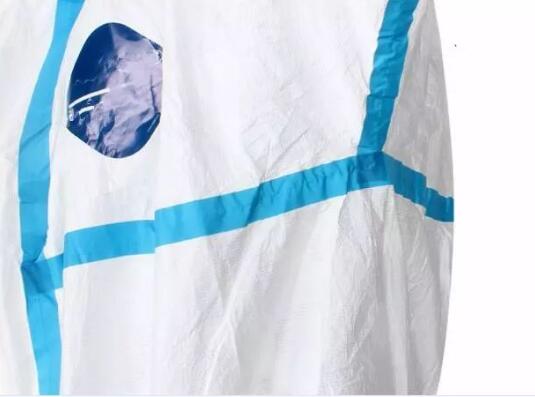 How is medical protective clothing made?
Common medical protective clothing is usually a one-piece structure consisting of a cap, top and pants, and has strict standards in production, including protection (sealability), usability and safety and hygiene. Medical protective clothing can be made by cutting, sewing, elasticizing, and gluing and pressing strips, and the machines involved are inseparable from these three: flat sewing, overlocking, and gluing.
Although it is a "basic staff", its role is not to be underestimated. The tightness of the thread and the fineness of the stitching are all related to the final effect presented. It can meet the process of sewing, zipping, velcro and elasticity in protective clothing.
Medical protective clothing is usually designed with a closed lapel, which means that the internal zipper is closed, the external bonded lapel is closed, and the zipper and Velcro are attached through flat seams. This design allows for a tighter fit, in addition to better donning and doffing.
In order to make the medical protective clothing fit more closely, the cuffs, ankle opening, and cap are all designed with elastic closure, which can be sewn by Jack A7 intelligent thick and thin all-in-one sewing machine or C6 good discharge intelligent overlocking machine (with external elastic device) using elastic rubber band closure, the purpose of which is to strengthen the protective clothing with other protective supplies, the tightness is higher, and also to prevent dust or liquid from entering the interior from that place. [Closed sleeves, closed pant legs, and closed hats can be hemmed with the C6 Good Release Smart Overlocker]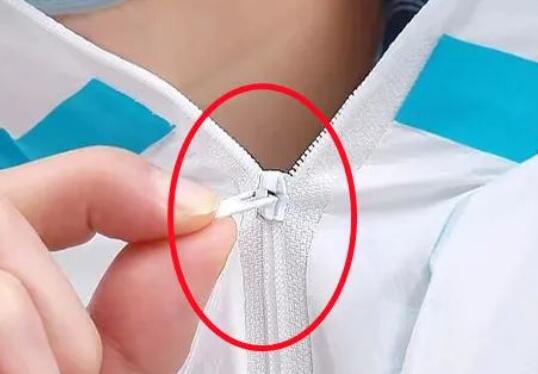 In order to facilitate movement and work and provide better flexibility for wearing, the waist of the protective clothing is usually tightened with elastic rubber bands by a flat seam machine to increase efficiency and safety of use
Bonding and pressing rubber strips
In addition to the above design, the most important step is to achieve such a high sealing performance. After the turner has sewn the protective clothing, all the stitches and pinholes in the protective clothing need to be sealed by the glue press to prevent dust or liquid from entering through the sewn pinholes, enhancing the isolation performance and safety of the protective clothing.
How to test the permeation resistance of protective clothing materials?
Protective clothing acid and alkali resistance test equipment is used to determine the acid and alkali impermeability of permeable acid and alkali protective clothing.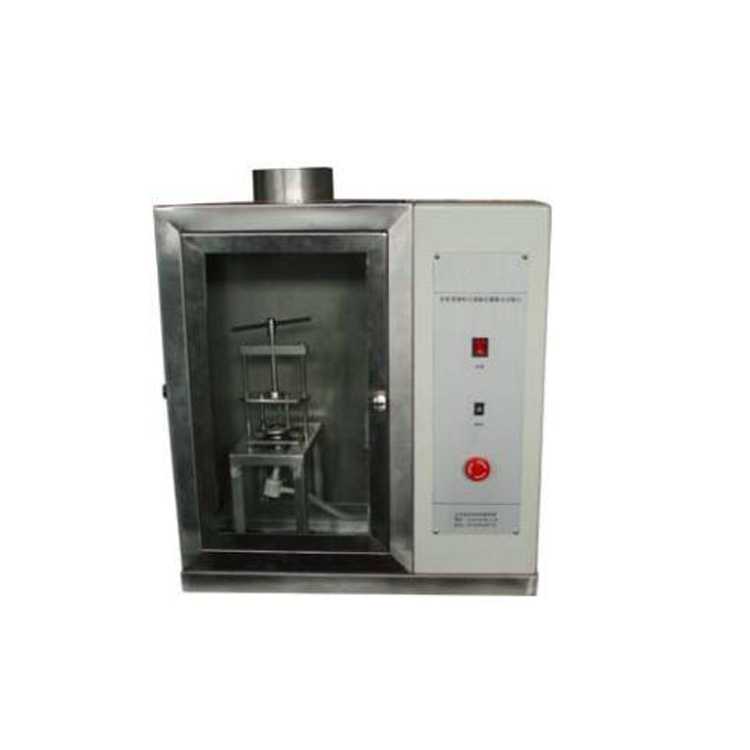 Protective clothing acid and alkali resistance test equipment working principle:
The resistance of the test solution to penetrate the fabric is expressed by the hydrostatic pressure of the fabric. Under the atmospheric pressure of 101.325kPa, the lower surface of the sample bears a continuously rising liquid pressure. Until there are three seepage points, and record the height of Until there are three seepage points, and record the height of liquid column at this time, which is called hydrostatic pressure resistance of fabric.
QINSUN instrument is a nationalized Protective clothing acid and alkali resistance test equipment manufacturer, we produce protective test equipment in line with protective clothing testing standards, welcome to leave a message to order!
Masks/medical protective clothing testing instrument recommendations : Protective Clothing Vertical Flame Spread Tester