Leather friction color fastness tester is suitable for color fastness test of leather, plastic and textile materials. The color fastness of the sample can be evaluated by rubbing it to monitor the degree of discoloration and fading of the sample and the degree of felt contamination; it can do both dry and wet tests, and has a memory function.

Color fastness to rubbing: Put the sample on the rubbing fastness tester, and rub it with a standard white cloth under certain pressure for a certain number of times. Each group of samples needs to be tested for color fastness to dry rubbing and color fastness to wet rubbing. The color stained on the standard rubbing white cloth is graded with a gray card, and the obtained grade is the measured color fastness to rubbing. The color fastness to rubbing needs to be tested by dry and wet rubbing, and all the colors on the sample must be rubbed.
Leather reciprocating friction test can be divided into the following three categories:
1. Acid and alkaline sweat test:
For acid and alkaline sweat wiping experiments, boil the felt and soak it in acidic sweat and alkaline sweat for 60 minutes, then weigh it with an analytical balance to ensure its mass is 1.0 g, and other steps are the same as in the dry wiping test. Acid and alkaline perspiration test ratings are the same as the above wet wipes.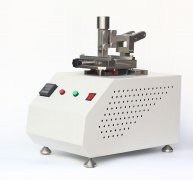 2. Dry wipe test:
Put the air-conditioned leather sample on the test table and fix it, and it should be strictly parallel to the test column. After fixing the leather sample, stretch it by 10% in the friction direction, and load the load block to make the total mass of the test head 1000g. . Fix the prepared test square felt on the test head, make the test head contact the leather sample horizontally, and rub it back and forth.
3. Wet rub test:
Put the felt into deionized water, boil it for 3 minutes (so that the felt is completely saturated), and weigh it with an analytical balance to ensure its mass is 1.0g, and other steps are the same as the dry rub test. The skin samples and felts for the wet rub test should be placed in a backlight and air-dried at room temperature, and then graded on a standard gray scale.
After reading these, do you have a deeper understanding of leather reciprocating friction test? Customers who have purchased Leather friction color fastness tester are welcome to inquire or leave a message to us for the latest quotation!