Thermal Manikin is a human body model that can be heated by heating the surface to simulate the heat transfer between humans and their thermal environment. Thermal models have been used to measure the thermal performance of clothing, suits, vests, etc.
What are the advantages of Thermal Manikin?
Compared with the use of heating plates to measure materials, the use of thermal models is a step forward in quantifying the thermal performance of clothing in 3D. Its advantage is that it considers factors such as body shape, air gap, and the way the fitting is worn on the body.
By moving the thermal mannequin between warm (25 °C) and cold (10 °C), a thermal mannequin with a constant surface temperature of 33 °C is used to measure one- and two-layer sets containing PCM microcapsules in transient environments ) Climate Room (Shim et al., 2001). The heat loss of the mannequin is used to quantify the cooling and heating effects of the product.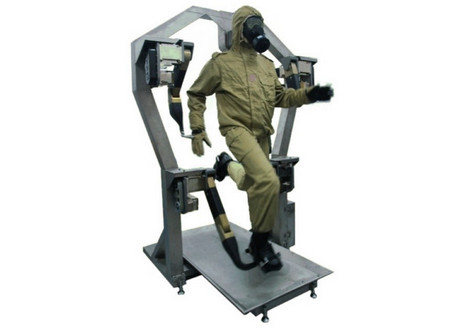 The high-insulation outer layer (fire suit) is worn on the top of the test cooling vest to minimize the heat absorbed by the PCM from the environment. A similar test method was used to measure the dry heat loss of melt-spun PCM fiber garments on female thermal dummy under the isothermal condition of 34 °C.
The average temperature drop of the torso of the mannequin (about 3°C lower than the temperature of other uncovered areas) is used to indicate the cooling effect. A thermoregulated human body model controlled by more advanced physiological models to measure thermal physiological responses (such as local skin, average skin, and core temperature) is desirable for evaluating smart clothing and smart textiles.
For more information about Thermal Manikin, please pay attention to Qinsun instrument manufacturer!