The Color Assessment Cabinet is a must for the textile, printing and coatings industries where colour contrast is important and the Color Assessment Cabinet helps those involved to ensure colour consistency and accuracy. Specifically, here are a few reasons why.

1. The textile industry: the colour and colour contrast of textiles determines the aesthetics and quality of the product. Generally textiles require a combination of colours together and the Color Assessment Cabinet helps textile manufacturers to assess the consistency of colours under different lighting conditions, thus ensuring consistent product quality.
2. Printing industry: The colour accuracy of printed materials directly affects the visual effect of printed materials, and the Color Assessment Cabinet can help printers to judge the changes in colour and brightness under different light conditions, so as to predict the performance of printed materials under different environments and adjust the colour adjustment parameters in time.
3. Paint industry: The colour of paint is also very important, as different colours of paint tend to behave differently under different base colours. The Color Assessment Cabinet can help paint manufacturers to assess the colour variation of paints under different lighting conditions, thus ensuring that the same paint presents the same stable colour in different environments.
In short, the Colour Assessment Cabinet helps practitioners in these industries to detect and adjust colours in real time, ensuring consistency in the defined colours of their products, while improving production efficiency and product quality.
How to maintain and maintain the Color Matching Cabinet?
Here are some ways to maintain and care for your Color Assessment Cabinet:
1. Regular cleaning and maintenance: Use cotton cloth and neutral detergent to clean the Color Matching Cabinet, avoid using acidic or alkaline cleaners, because these cleaners will damage the Color Matching Cabinet. At the same time, regularly clean the lamps, bulbs and radiators to remove dust and grease to ensure the cleanliness and brightness of the lights.
2. Replacement of lighting lamps: Replace the bulbs regularly, and it is recommended to replace them every 2000 hours. If the bulb flickers abnormally or there is too much dust, it should be replaced immediately to maintain the stability and accuracy of the Color Assessment Cabinet.
3. Environmental control: When using the Color Assessment Cabinet, the environment such as temperature, humidity, and air flow must be controlled in a stable state to avoid excessive or low impact.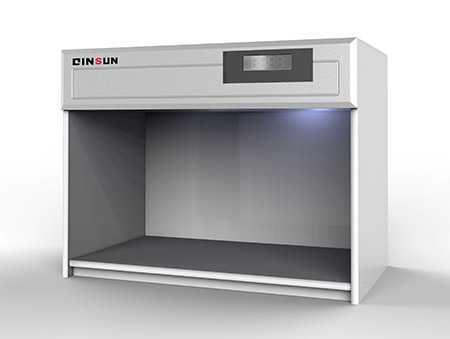 4. Prevent damage: If the Color Matching Cabinet is not used, avoid exposure to sunlight and humidity as much as possible, and keep it in a dry and ventilated environment. When the equipment is not in use, it should be unplugged.
5. Regular inspection: Regularly check the accuracy of the illuminance meter and other control devices, and adjust them to appropriate values to ensure the accuracy and stability of the Color Assessment Cabinet.
In general, regular inspection, cleaning and maintenance of Color Assessment Cabinet equipment can prolong its life and accuracy, and ensure that there will be no problems in use.