The Burning Manikin System was developed in accordance with standards GBT23467-2009, ISO 13506 and ASTM F1930. It uses sensors mounted on the surface of the dummy to detect changes in the temperature field in a blast environment with standard heat flux, uniform flame distribution and controlled exposure time, to estimate the area of first and second degree burns on the dummy's skin, to predict the extent of burns on human tissue burns and total burn area, and to characterise the flame retardant and protective performance of the protective clothing.


Guideline:
GB8965.1: Protective clothing flame retardant clothing
GBT23467: Test method for evaluating the flame resistance of clothing under flashover conditions using dummy
ISO13506-1: Protective clothing against heat and flame- part1: Test method for complete garments-Measurement of transferred energy using an instrumented manikin
ISO13506-2: Protective clothing against heat and flame- part2: Skin burn injury prediction- Calculation requirements and test cases
ASTM F1930:Standard test method for evaluation of flame-resistant clothing for protection against fire simulations using an instrumented manikin
Introduction:
Protective Clothing Burning Manikin System is mainly composed of combustion chamber, combustion control system, dummy, data acquisition system, image acquisition system and system software, which can complete the uniformity calibration of incident heat flow, temperature acquisition and Calculate, complete first-degree burns, second-degree burns, and pain analysis, predict the degree and extent of burns, and complete the definition of flame-retardant protective properties of protective clothing.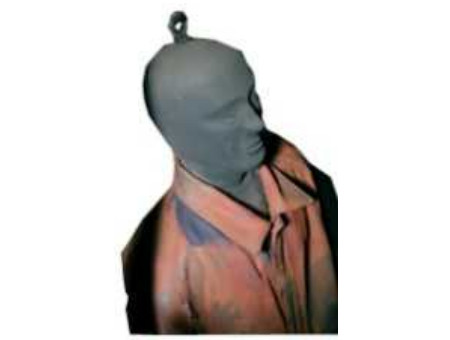 Burning Dummy meets the requirements of ISO 13506 and ASTM F1930 and the dummy size meets the requirements of ASTM D6240;
The dummy is made of a non-degradable, fire resistant ceramic composite;
The dummy has joints at the shoulders, elbows, knees and ankles;
Connection cables are run from the top of the head or the back of the neck into the dummy;
122 sensors distributed throughout the body. 2;
2. Sensors
2.1 The sensors are made of a copper alloy with thermocouples soldered to the back of the sensor to measure temperature changes in the copper plate;
2.2 The thermal radiation range is at least 0-167kw/m2;
2.3 The sensor is coated with black high temperature resistant paint;
2.4 Heat sensor response time <= 0.1s;
3. Combustion chamber
3.1 Combustion chamber constructed of refractory quartz glass and steel, volume of chamber: length 4m x width 3.5m x height 3m;
3.2 The combustion chamber provides a uniform flame for the dummy test surface and sufficient space for commissioning;
3.3 Combustion chamber with independent ventilation to ensure adequate oxygen supply during the test and exhaust gas evacuation after the test;
3.4 The exhaust fan has an adjustable exhaust rate of at least 25 m3 /min; a smaller exhaust volume can also be used to provide cooling air;
3.5 The combustion chamber is equipped with a combustible gas leak detector and a door opening and closing detector to ensure the safety of personnel and the test;
4. Combustion control system
4.1 12 imported torches are used, divided into 6 groups of 2 torches each, with a high and low configuration;
4.2 The torch groups are arranged in a hexagonal configuration to form a torch matrix, providing a uniform incident heat flow of at least 84kW/m2 to the dummy surface;
4.3 The gas pipework is laid out in stainless steel tubes and connected to the torch set by flame retardant hoses;
4.4 The gas is controlled by an imported explosion-proof solenoid valve with a response time of 0.1s;
4.5 The gas flow is controlled by mass flow controller, which precisely controls the gas flow and guarantees the stability and repeatability of the fire;
4.6 The burner is equipped with a long flame igniter for safe ignition, which keeps the burning state throughout the ignition test to ensure safe ignition. 5;
5. Data acquisition system
5.1 Industrial PC ++ Labview for multi-channel high frequency data sampling and analysis system;
5.2 Imported brand data acquisition platform, Ethernet connection to achieve time-synchronous distributed measurement;
5.3 Adopt imported brand temperature acquisition module, sampling frequency 95Hz/channel, sampling accuracy ±0.29℃, resolution 0.01℃;
5.4 The Labview software platform is used to achieve synchronous data acquisition, display and recording;
5.5 124-way sensor and temperature environment data synchronous acquisition. 6;
6. Test Software
1.1 The system test software adopts Labview editor, modular design, simple and beautiful interface, rich data content;
1.2 Each channel temperature and heat flow parameters can be calibrated, each channel sensor configuration a correction curve;
1.3 The sensor is calibrated for second degree burns;
1.4 Programmable gas flow per channel;
1.5 Exposure condition calibration, where the sensor is calibrated and the dummy is placed in a robust environment to confirm the heat flux values, mean and standard deviation for each channel;
1.6 Analysis of the area of second degree burns on the dummy surface;
1.7 Analysis of the third degree burn area on the dummy surface;
1.8 Analysis of the total burned area of the dummy surface;
1.9 Analysis of the total absorbed heat on the dummy surface;
For those who have purchased Burning Dummy, please send us a message.