The nucleic acid sampling booth is also known as the Infectious Disease Portable Test Sampling Booth. It is different from common tents. This sampling booth is suitable for "single or double or three-person nucleic acid sampling". The human nucleic acid sampling workstation can meet the needs of different groups of people.

The nucleic acid sampling booth is equipped with a sampling window. Medical staff do not need to wear protective clothing in the sampling booth, and their hands can pass through the sampling port through special "gloves" for sampling. After sampling, the sampling personnel put the throat swab into the sampling tube, sealed the cover, and then put the sampling tube into the biological sample box outside the booth.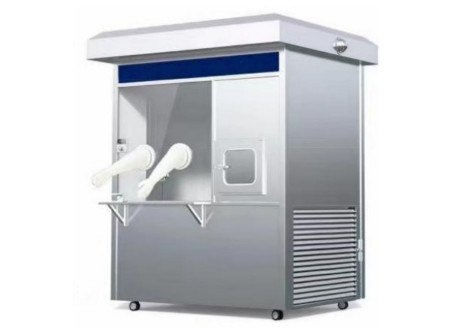 Structural features:
(1) The main frame is made of 201 stainless steel, and the finished product is transported and can be flexibly customized to adapt to various venues;
(2) Equipped with a high-efficiency filter to provide a 10,000-level cleanliness positive pressure environment without wearing protective clothing (with third-party certification);
(3) Equipped with rubber gloves, walkie-talkie, clean transfer window, non-contact sampling, safe, efficient, convenient and quick;
(4) Equipped with hanging air conditioner to provide a comfortable working environment;
(5) The internal space can accommodate multiple staff members, which is convenient for collaborative work;
(6) One-key disinfection function, you can use the remote control for regular disinfection;
(7) The sampling window is equipped with a folding table, which is flexible and convenient, and is convenient for sampling work.
(8) The front window adopts 10mm thick explosion-proof tempered glass to escort the sampling work.
(9) Equipped with intelligent fingerprint password lock, keyless entry, safe and fast, and open with one grip; (optional)
(10) It is equipped with a protective rain cover, which can be used in rainy and snowy weather, which greatly reduces the influence of weather. (optional)
(11) Equipped with lift seat (with backrest, rotatable). (optional)
The nucleic acid sampling booth is non-contact and non-crossing, and can be sampled by multiple people at the same time. The process is smooth and simple, and it can cope with various harsh climatic conditions. It is flexible and not subject to geographical restrictions. It is convenient for people who need to be tested, and it also improves the working environment of front-line medical staff. The internal space adopts positive pressure protection and is safely closed, and medical staff do not need to wear heavy and heavy protective clothing, which reduces the burden on the body.