Material aging is mainly manifested in discoloration, loss of light, strength reduction, cracking, peeling, chalking and oxidation.


3 main factors of aging:
1. Light (especially UV)
For durable materials such as most paints, plastics, short-wave UV light is responsible for the aging of most polymers. However, for materials that are not so durable, long-wave UV light and even visible light can cause serious harm.
2. High temperature
When the temperature increases, the destructive effect of light will also increase. Although the temperature does not affect the main photochemical reaction, it affects the subsequent chemical reactions. Laboratory burn-in testing must provide precise temperature control, often by means of elevated temperatures to accelerate burn-in.
3. Wet
Dew is more harmful than rain because it sticks to the material longer and creates more severe moisture absorption. However, the thermal shock caused by the sudden temperature drop cannot be ignored. For example, when a car heats up on a hot summer day but is suddenly radiated by a rain shower, the rain can cause stress erosion.
Any one of these three factors can cause material aging, and they often occur simultaneously, causing more harm than any one factor alone. Therefore, in the laboratory, some materials have good durability under the action of light or wet conditions alone, but often fail under the synergistic effect of the two.
What are the main aging test equipment used?
The QUV UV aging test chamber uses fluorescent UV lamps to simulate the damaging effects of sunlight on durable materials. These lamps are electrically similar to the cool white lamps used in general lighting, but emit mainly ultraviolet light rather than visible or infrared light. For different end-use conditions, the QUV UV aging test chamber requires different spectra and then selects different types of lamps. Common lamp types include UVA lamps and UVB lamps.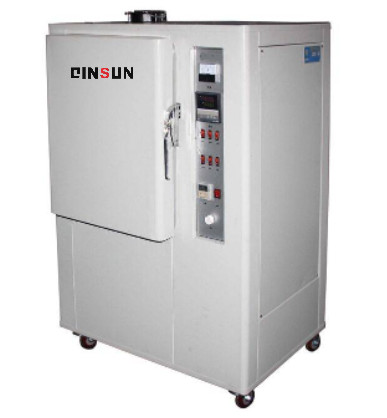 2. Xenon lamp aging test chamber
The xenon lamp aging test chamber mainly uses xenon lamp to simulate the effect of sunlight, and uses condensed moisture to simulate rain and dew. In this way, the material to be tested is placed in a cycle program of alternating light and moisture at a certain temperature for testing, which takes several days. Hazards that occur outdoors for months or even years can be reproduced in weeks or weeks, and artificial accelerated aging test data can help select new materials and improve existing materials.
How to choose a light aging test equipment manufacturer?
Qinsun is a global leading leather&textile testing instruments manufacturer. Focus on developing and manufacturing leather&textile testing equipment.