The Titanium Tungsten Arc TABER-5750 Abrasion Resistance Tester is suitable for testing the abrasion resistance of products such as plastics, automotive parts, rubber, leather and textiles, electroplating, freely disassembled components, lacquered products, and printed graphics. It can be used both to evaluate the abrasion resistance of products and to evaluate the scratch resistance (single or multiple scratches) and color transmission of products. Dry abrasion test and wet abrasion test can be performed. It can test samples of any size or shape, and is ideal for abrasion testing of products with contoured and polished surfaces (e.g., computer mouse and other computer or IT products with plastic top coat abrasion resistance testing).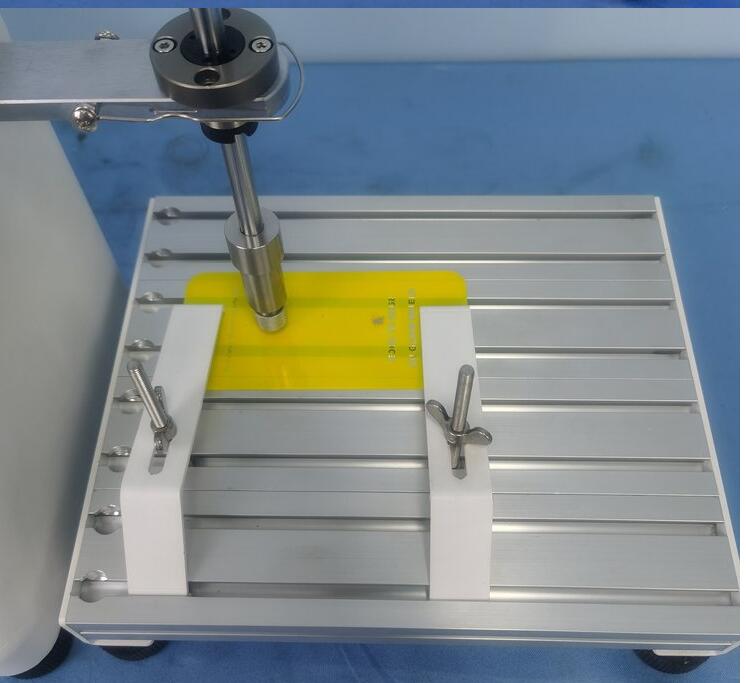 Main technical parameters.
Test lifting rod: imported lifting rod (no rotation)
Test object: coating, plating or other surface treatment
Applicable substrates: flat, rounded surface
Friction probe: rubber, alcohol, steel wool, wool felt
Moving stroke: 0.5", 1", 2", 3" and 4" (other strokes can be customized)
Travel speed: 1-100 times / min, digital display, direct input
Setting times: 0-999999 times
Display method: touch screen
Lifting bar self-weight: 350g
Optional weights: 250g 3pcs, 50g 1pcs, 100g 1pcs (stainless steel material)
Test platform: 240*280mm
Overall dimension: 460*230*330MM (without platform)
Machine weight: 15KG
General accessories.
Universal accessories (98g) include 1" and 2" friction heads, ideal for testing flat samples. The use of adhesive or double-sided tape can be fixed fabric, used to do mutual friction between fabrics, so that according to the special needs of your products, real and reliable friction conditions, such as testing the transport process, the mutual friction between product packaging. If your products often need to receive the friction of textile fabrics, we recommend that you use this test accessories. This test accessory can also be used to test the ability of a product to withstand repeated friction from blunt or flat objects.
Pasteurized Cloth Test Kit.
In order to evaluate the effect of a cloth on wear and tear, Taber offers a cloth test kit (58g). It is designed to simulate the damage that consumers may incur when cleaning with a Pasteur cloth. The test kit contains a 1/8-3/8 inch square aluminum block. The test was conducted using an adhesive to which the cloth was attached. The lightweight pad was made of soft, non-woven fibers and was suitable for applications requiring gentle scrubbing. In contrast, the universal pad is used as an alternative to steel wool and for "everyday" cleaning.
Steel wool.
For applications requiring steel wool testing, Taber offers a 10mm square friction head (27g) or a 20mm square friction head. Both have a square contact area with a compressed neoprene pad. The rubber pad allows the steel wool to be held in place while testing. The load during testing can be adjusted with other accessories.
The use of a steel wool holder is another method of steel wool abrasion testing. The holder is made of machined aluminum. The steel wool is held in a 12mm diameter opening during the test, exposing approximately 1cm of the steel wool friction head.
Brass brushes.
The brass brush attachment (79g) meets the test brush requirements of GM GMW 14125 for flat carpets (e.g. knitted wool carpets). The friction head holds 3 rows of brass wire on wood. When testing with brass brushes, the use of a wide sample holder is recommended.
Standard (Hong Kong) Group/QINSUN is the world's leading Lab Testing Equipment & Materials Suppliers, always putting the customer first as our company's business purpose, constantly improving and enhancing product quality and service, providing users with more comprehensive instrument application total solutions, and serving you with the spirit of daring to innovate and strive for the first.