QINSUN Sleeping Bag & Water Soaking Comfortable Thermal Manikin is a fully enclosed aluminum mannequin with a complete standard system that can test protective clothing and aerospace immersion suit models. Standard configuration 20 independent heating zones, extremely stable heating wires to provide balance Each area of heat flow is equipped with temperature sensor, heating wire and heating controller control software, with heating temperature and heat flow control, fault monitoring, real-time data display and data recording functions, rapid heating and stable temperature maintenance, and automatic monitoring to end the test The immersion heating manikin is an aluminum human body model with a fully enclosed design, with a heater and an electric thermal adjustment temperature sensor embedded in it.

The immersion heating manikin system includes a simple and easy-to-use control software program. With a total weight of 85kg, the immersion heating manikin system complies with ASTM and ISO standards to meet the needs of testing institutions and research laboratories for clothing evaluation.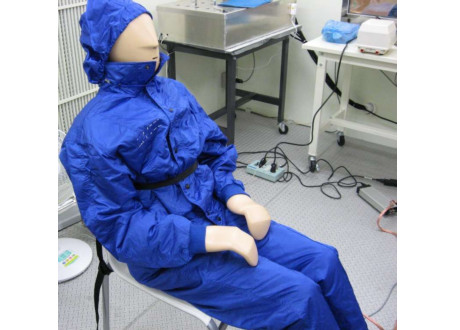 test environment
Operating environment temperature range -20℃--+50℃
Operating environment humidity range 0--****RH
Can be immersed in water to a depth of 10 feet (3 meters)
System accuracy and standards
Can quickly heat to a stable state, and automatically end the test
Temperature measurement and setting accuracy ±0.1℃
Humidity measurement accuracy ±3%
**Output power 1200W/ m2
Comply with standards ISO 15831, EN13537, ASTM F1291, ASTM F2370/2371
The software has the following advantages:
Color-coded graphic display of the human body model. You can choose to view any attribute (temperature, heat flow, resistance, etc.)
Automatically detect whether it has reached a stable state
Users can choose to view linear graphs and tables of real-time data and historical data of the human body model
According to the interval time selected by the user, real-time recording of data and real-time calculation of statistics
Human body model operation: temperature mode, heat flow mode and Wissler model.
For more information about QINSUN Sleeping Bag & Comfortable Thermal Manikin, please leave us a message!