Ozone aging tester can be used for rubber products such as vulcanized rubber, thermoplastic rubber, cable insulation sheathing and other products, under static tensile deformation, exposed to air containing constant ozone concentration and constant temperature in a closed test chamber without light, according to the predetermined time to test the specimen, from the specimen surface cracking or other changes in performance to assess the ozone aging performance of rubber.
When using the rubber ozone aging tester for a long time; sometimes due to inattention to maintenance; will lead to some of its equipment failure problems; do you know what the solutions to its common failures?
Next to talk to you about its common failure problems and solutions. When its equipment is turned on 50 seconds after the secondary table does not show the ozone concentration value and does not move phenomenon: exclusion method: normally usually presents the upper limit is mostly no 4-20mA signal input, check the ozone aging test chamber ozone transmitter is not 24V power supply → 4-2, 0mA output line → sensor and the motherboard interface line is not broken or loose.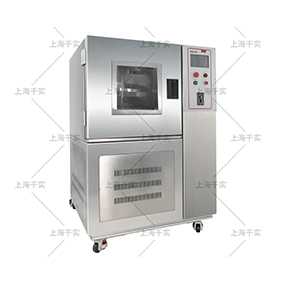 Rubber ozone aging tester does not move may be the transmitter zero point is too low. Can adjust the zero point, open the front cover with a special small change cone to see the ZERO potentiometer counterclockwise gradually adjusted until the secondary table shows the value. Open the front cover of the transmitter, the multimeter to the voltage file to measure the two copper pins above (zero point voltage should be 40mV) if it is too high or too low, adjust it to 40mV, adjust the method of adjusting the zero point according to 2.
The test ozone value stays at the value after the power on, not rising. Exclusion method: This phenomenon usually has the following conditions: ozone generator in operation and not ozone: contact with the ozone aging test chamber manufacturers. Not set the control value: set the control value can be. Ozone generator does not work: test the solid state relay is not an output, the line is not connected to the wrong, solid state relay is not operating.
Rubber ozone aging test chamber to do the test when the ozone concentration value can not stabilize the control value scale, or high or low. Exclusion method: transmitter in the factory to pass dozens of hours of polarization, after the recognition of stability before leaving the factory, usually present this situation is mostly in the installation of the transmitter is the transmitter and the box has a connection, which should be good insulation of the transmitter and the box can be.