A thermal mannequin specially designed for women's clothing and environmental testing. Full-body female thermal models for enhanced clothing testing. If you are in the business of developing high-performance clothing or protective clothing for women; laboratories that test these products; or government or university research institutions that develop worker safety guidelines, we would like to You introduce Liz, the newest member of our thermal model family. Incorporating female mannequins into your testing program means that performance clothing designed for women can now be tested on women, resulting in more realistic clothing characteristics and thermal comfort data that are more suitable for actual end users.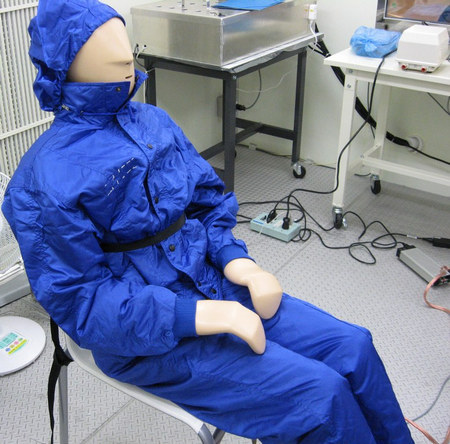 Where to buy the Female Comfortable Thermal Manikin?
QINSUN is based on the input directly from customers and clearly understands their needs. Our engineers use 3D CAD modeling process and actual female body scanning to design the Female Comfortable Thermal Manikin model parameters to obtain a realistic shape. Her precise temperature regulation and sweating system is based on the proven technology of our widely used Newtonian manikin. All Female Comfortable Thermal Manikin model systems include:
Thermally conductive carbon epoxy housing with embedded heating and sensor wire elements and 30 independent hot zones*
Body shape based on measurements of 50% Western women
More than two decades of global mannequin application experience has proven the precise sweating skin system
Articulated joints allow shoulders, elbows, hips, knees and ankles to move in various positions
Integrate with our flexible and user-friendly ThermDAC software to provide complete device control, graphical data display, and dynamic data analysis and recording
ManikinPC is combined with female thermoregulation and comfort prediction, so Liz can more realistically represent human subjects in real time
*Our standard 30-zone model has been optimized for clothing and environmental testing needs, but Liz can also be customized for almost any application you can think of. This may include different mannequin support or cable connections, alternative segmentation, wider operating range, additional sensors, or anything else your research may require.
How to place an order for purchase?
If you are interested in the Female Comfortable Thermal Manikin model system, please contact us immediately to place an order or tell us!